About Us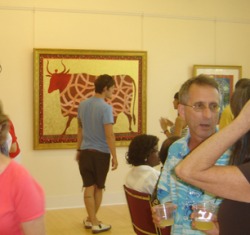 Jefferson Arts, Inc was founded in 1997 by a group of local artists. Their objective was to bring art and art awareness to Monticello and surrounding areas. They leased an old school building in badly need of repair and in seven years of blood, sweat, and tears, it became the beautiful artist studio and art gallery of today.

We are a non-profit organization, surviving on memberships and studio rental from our artists in residence. We are constantly adding new artists to our fold of talented members. Our members' talents run the gamut, working in such mediums as oil; watercolor; sculpture; acrylic; pastels; drawing & sketching; cartooning; fantasy; book illustration; beading; glass bead making; woodcarving; woodturning; mixed media; china painting; basket making; weaving, crocheting, knitting boards, and photography. Our membership consists of artist members, both professional and amateur, as well as those who simply appreciate art.

We feature one exhibit per month, with an opening reception on the 1st or 2nd Saturday of the month from 2pm to 4pm. We have two member exhibits per year: December and June. We have studio space and classroom space as well as a gallery. We feature workshops by well-known artists in all mediums and by our local members as well. Jefferson Arts Gallery also features a gift shop where we sell affordable works by our member artists.

Our past shows have included the works of: Jean Weiner; Lynn Priestly; Julie Boland; Sally Shovar; Ron Yrabedra, Stephen Bennett, Penny L. Anderson, Dr. Maguerite Foxon, Keith McCulloch, donalee pond-koenig, Troy Spencer, Renee Lynch, Debby Brienen, Melinda Copper, Peter Murdock, Ruth Dryden-Deshaies, Linda Van Beck, Ken Harper, Zaid Haynes, Andrew Greenwood, Strange Circus, Tadja Dragoo, Jo Shoupe and Eluster Richardson to name a few.

If you would like to learn more about us; become a new member; exhibit your work; purchase an item from our gift shop; rent studio space; or teach classes and workshops, just call or email us, or come knock on our bright, red door! We'd love to meet you.
---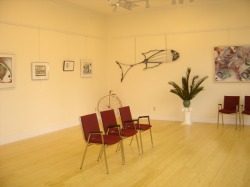 Officers for 2014-2015

President, Judy Miller
Founder, Bill Moon
Co-Vice-Presidents, Becky Clayton
Co-Treasurers, Susan Rissman
Secretary, Jeanne Phoenix
Membership, Alice Stadin
Historian, Anna Jackson
Exhibit Coordinator, Susan Rissman
Member Exhibits Coordinator,
High School Exhibit Coordinator, Becky Clayton
Bank Exhibit Coordinators: Jean Pitts, Jeanne Phoenix, Suzanne Peary
Gift Shop,
Web Master, Melanie Mays
General Maintenance: Roger Stadin, Bill Moon, Bob Copper
Teachers: Marilyn Youtzy, Melanie Mays, Jeanne Phoenix, Alice Stadin

Location & Directions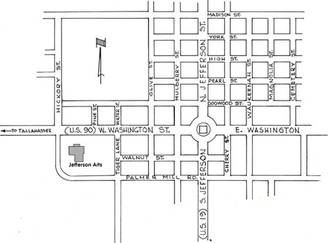 Directions to 575 W Washington Street, Monticello, FL:
From I-10: Take Exit 225 FL/GA Pkwy, also known as Hwy 19. Turn North. Go about 5 miles. When you get to the center of town, enter the roundabout. Take the 3rd exit. You'll pass the Monticello Operahouse on the left and The Monticello News on the right. Go about 2 blocks. We're on the left (West). Look for the red door and sign in the front yard. Park in back or on the street in front of the building.

From Hwy 90: From Tallahassee, go east on Hwy 90 about 32 miles. We're on the right (West). Look for the red door and sign in the front yard. Park in back or on the street in front of the building. If you get to the roundabout in the center of town, you've gone too far!

We're next to the old high school, which is the new location for the County Commissioner's offices and across the street from the Avera-Clarke Bed and Breakfast. Hwy 90 is also Washington Street.


---